Automotive Achieves Production Milestones
Johnson Controls' seating plants achieve production milestones
August 2, 1995 (PD: 201408)
On August 2, 1995, the Johnson Controls Briefing newsletter announced that several automotive systems plants recorded production milestones.
According to the announcement, the Belcamp, Maryland plant produced the six millionth seat for General Motors; the Sunderland, Tyne and Wear plant in Great Britain delivered the one millionth seat set for the Nissan Primera SE; and the Geel, Belgium plant celebrated the two millionth seat set for the Opel Astra.
The Belcamp plant had been in operation since July 1984 when it was part of Hoover Universal, Inc., which Johnson Controls acquired the following year.  The Geel plant began full production in August 1989.  Johnson Controls had been producing automotive seats for Nissan in Great Britain since 1986 in a joint venture with Nissan's affiliate Ikeda Bussan Co.
In 1995, Johnson Controls made 34 percent of all the automotive seats sold in North America.  In Europe, the market share was 25 percent.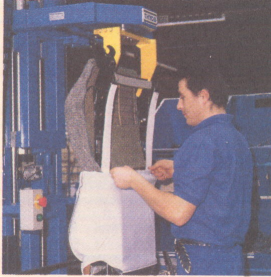 A production worker at the Geel, Belgium plant assembles a seat in 1994