Meet Richard J. Murphy
Richard J. Murphy elected as Johnson Service Company's fifth president
November 18, 1960 (PD: 201311)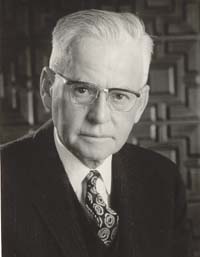 On November 18, 1960, the Johnson Service Company (Johnson Controls' former name) board of directors unanimously elected Richard J. Murphy as president, the company's fifth president in its 75-year history.
Mr. Murphy began his career with Johnson in 1918 in the accounting department.  Three years later he was made Central District auditor at the Chicago branch.  In 1938, he returned to Milwaukee and became an officer of the company when he was named secretary and assistant treasurer.  By 1950, Richard Murphy had been promoted to treasurer, vice president, and to the board of directors.
He served as president through 1966, and then as chairman of the board in 1967 and 1968.  He retired from the board of directors in 1981 after 63 years with the company.
During Mr. Murphy's presidency, the company's sales increased from $72 million to $138 million.  His tenure was marked by the company's continued expansion overseas, as new subsidiaries were created in several countries including Australia, Belgium, Germany, Italy, and Switzerland.
Richard Murphy passed away in 1989 at the age of 89.