Out & About with Our Members
July 15, 2017
April, 2018
Here's the latest from our favorite photographer, Ban Capron. His description places it in a location well known to many of our Wisconsin members: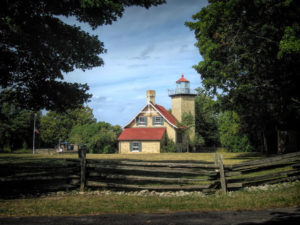 "Wisconsin – Eagle Bluff Lighthouse, Peninsula State Park – Door County (2008)
Photography comment: I really enjoy running across old pictures in my computer and trying to improve them with software. The key is your initial composition. Note the fence in the foreground and the trees framing the subject. If you work on composition you can often make your photo a nice picture one way or another."
How about that? It looks like a painting doesn't it? Thanks for sharing your work Ban.
March, 2018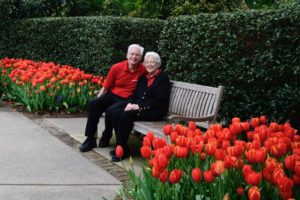 Ban & Jan Capron will be celebrating their 63rd anniversary on April 1st. Congratulations to both of you and our best wishes for many more.
This picture is from their recent visit to the Dallas Arboretum, highly recommended by the Capron family for an enjoyable visit any time! (click on the photo for a better view)
July, 2017
Ban Capron is a serious photographer and apparently enjoying every minute of it!
Ban has been a contributor in the past and he recently submitted some photos from his time in several Johnson Controls Branch Offices. Check them out in the Who do you Know? collection of the Photo Gallery. Here is Ban's description of the pictures from his email:
I appreciate the way you Milwaukee folks stay together and communicate well. I actually clicked on several Monitoring the Field issues. Some fabulous pictures.
Although I'm a very serious photographer now and have over 26,000 pictures in my computer that all happened since JCI. I did find a few old pictures I scanned in.
There is a bit of history for the files like old Branch Office pictures since all the Branches I was in are long gone. The Dallas Branch office is still there. The picture is breaking ground around 1985/6. The pictures were taken during the period I was there. Grand Rapids 60-65, NYC 65-73, Houston 73-81, SWRO/Dallas 81-88. The Managers meeting in San Antonio was around 1982 and the 2 Niagara Falls meeting was 1984.
Now, bringing things up do date, Ban sent an update on his current activities as a photographer, covering the world. Here is the email he sent to explain his work process. This is really great …
Adding You to the Mailing List
Background/Wallpaper Of The Week Club
For many years I've been sending pictures (now over 1,200) to about 200+ friends around the world. Folks are generally on this list due to an interest in photography, travel, or just seeing interesting pictures. Friends have used the pictures as Wallpaper/Background, creating Screensavers, planning trips, sharing with friends, or simply viewing and deleting. I'm adding you to the mailing (your simple request will remove you).
So far we have sent pictures out from all over the USA, Italy, Spain, Australia, New Zealand, Peru, Turkey, Russia, Ukraine, Bora Bora, Tahiti, Fiji, Costa Rica, Thailand, Mexico, Czech Republic, Brazil, Argentina, Switzerland, France, Scotland, England, Germany, Austria, Poland, China, Greece, Netherlands, Belgium, and on a sailboat in the Caribbean. If you are interested in pictures missed some of my favorites can be found in my Facebook albums. (Note: Click on the link to see the albums on Ban's Facebook page.)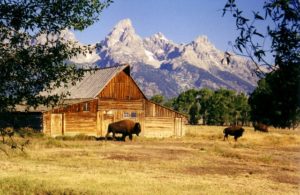 This is a sample picture from the Grand Teton in Wyoming, USA. When appropriate I provide photography hints to encourage your picture taking. These particular hints are more extensive than normal which it is why I'm sending it to you as a sample.
Grand Teton picture.
Over the past years I've talked a lot about taking great pictures. This picture summarizes quite a few points previously mentioned.
Plan where you will be at sunrise & sunset. I drove by this place the day before and determined it was a sunrise picture. Later in the day the barn would not be lit up like it is. I carry a compass in my camera bag.
The center of interest is not in the middle making the picture more interesting. Generally the center of interest should be roughly at the 1/3 point (both horizontally and vertically).
The horizon should normally be in the upper or lower 1/3 of the picture as well and make sure it is level horizontally.
Often use a polarizer filter. That is what makes the sky bluer. A polarizer also makes clouds whiter.
Frame the picture. Note the tree branches in both upper corners. Just plain blank sky can be boring. Before you press the button look in each corner of the picture make sure everything is just right. Don't just point and shoot. I used a tripod and took my time for this picture. If there were clouds you might replace one corner's tree with clouds.
Be patient. You might get lucky and a buffalo shows up. Note even the buffalo is posed right before the barn.
Great pictures generally just don't happen. Take your time.
Current pictures being sent are from England, unless I get sidetracked. When you join the mailing you may get several pictures shortly, but normally you will receive one or two each week. Note this happens to be a trip with my daughter last a month ago so you will see a few family type pictures.
The e-mail would be addressed without listing everyone's name and e-mail address (except when I forget).
Thanks for sharing your experiences and expertise with us Ban … our best wishes to you and your family.
May, 2017
Paul Froehling, a regular source for good news, gave us an alert to this story in the May 3rd Journal Sentinel.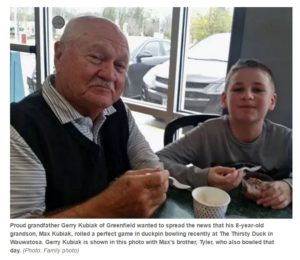 Well, that 'young boy' is the grandson of Gerry and Tekla Kubiak, members of the WSJ Society.
How about that smirk on grandpa's face? I think he's enjoying the event and ice cream as much as his grandson. But, that is what grandpa's do isn't it?
The picture is from the Journal Sentinel story. Click on the title to read the entire story. It's a good one.
Thanks Paul for keeping an eye out for news of interest to our members.
March, 2017
A note from Vesna Stemwell (BE 1979 – '97) with her application for membership — Welcome Vesna & Kevin …
My husband Kevin (also a JCI'r) and I moved to the Twin Cities area in 2005. Throughout the years I've enjoyed getting software to jump through hoops. I spent the last 10 years as a Software Engineer at the National Marrow Donor Program. In December I decided to retire early to work on my crafts and hobbies, plus jump-start my online business — freelancing in Microsoft Access if I get lonely for IT. I look forward to reconnecting with my former colleagues and friends.
And this one from Joe Bartoletti (BE) …
Look forward to receiving the Newsletter but it would be much more pleasurable reading about what the retirees are doing with all their new found time. In the past we've heard about refinishing old cars, sky diving, really exotic travel by their own sailing boat, tours to faraway places. Have heard about nightly searching the skies with his telescope, starting new businesses, and gratifying volunteer work.
It's uplifting to read that there are so diverse things being done at this time of life and by people we share past work experience, many times people we know.
Editor's note: Vesna and Joe, thanks for the notes!
To accommodate new visitors to the website, I'm testing a new approach. I'll manage this as a running post, adding each new update to the top of the list. That way you can catch up anytime.
Members, please send us an update on your activities. Let's make this a very long post!
May, 2016
Touched base with Steve Thomas at the Spring Luncheon. He's enjoying his retirement as a volunteer at the East Troy Electric Railroad. Steve is the Marketing Chair of this volunteer organization, dedicated to "…preservation of the the rail heritage of Wisconsin and America."
That sounds great, but check out their website, www.easttroyrr.org. I think they are all having a great time playing with trains while creating fantastic experiences for all who find there way to the East Troy Depot at 2002 E. Church St, East Troy, WI.
Oh, and check the list of Officers and Directors of the organization. There's several familiar names from days past at Johnson Controls.
Don Odegard sent a note with a few stories about the Tyco Merger from the St Petersburg, FL paper. Don is an investor and really interested.
Don also added a bit of his story with Johnson Controls:
"I started at Johnson Service 1948.1986 except for 4 years in Navy and 1 year in my Mobil Service Station, Green Bay. I started in the Compressor Dept. for Ed Jurazinski in the old Whiskey Building, then transferred to the Maintenance Dept after a year for Gus Dalli. Enjoyed my employment very much at JC. I retired in 1986 at age 55 and moved to St Pete's Fl."
(Did I read that right? "Whiskey Building" part of the Johnson Controls campus?)
Don attached a picture looking into his garage at a classic Ford and just a glimpse of a Harley. On the back was a note… "if I worked longer, I could afford a newer car." It looks like Don has been enjoying Florida on his Harley, or with the top down on that Ford.
Talking about Florida, John Enright sent this email about his travels earlier this year…
"Spent some weeks recently at St Augustine Beach Florida, just south of Jacksonville on the Atlantic Ocean. My three long walks every day were along the "shoreline", where the ocean meets the sand in the surf. It was just marvelous. The beach was 200 yards wide. St Augustine is the oldest continually occupied city in the USA and replete with history."
Knowing John, one walk a day would not do it. He's always had the energy for at least three walks a day!
Our thanks to Steve, Don and John for sharing their experiences with us.
Let us know what you're doing, mail, phone, or email we'll pass it along here in the Newsletter and online at WSJSociety.com.
Jude Anders
WSJSociety.com Editor