Spring 2014 Late Add
Ban & Jan Capron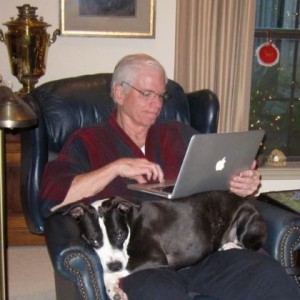 Editor's Note: May 7, 2014
You saw this picture of Ban with dog and laptop in the Spring 2014 Newsletter. Did you wonder what he might be doing on the laptop that was so very interesting? Here's the rest of the story as sent to us by Ban.
TEXAS by Ban 2014 
This is a 10 minute slide show of my Texas pictures with fabulous music by the Dallas based Vocal Majority (150+ voice men's chorus that has been winning many International Championships for 30+ years). Hopefully you will you will "LIKE" this new version and forward it to your friends.
The 2010 version was made from pictures I happened to have and used cattle and flower pictures as fill time. At the 2014 publishing time the 2012 version had about 85,000+ views. This slide show is much more intentional trying to cover more of the State and adding more Texas flavor. It has given me an appreciation for Texas's variety and size. Texas is a very BIG State! I got as far as the Louisiana border (East), Corpus Christi (South), Midland (West) and Amarillo (North).
Unlike the 2012 version this is HD and places are better identified. Roughly 60 pictures are reused from the 2012 version and many of those are in the first few minutes. There are 158 pictures (30+ more than the 2012 version) so many go by fast as the music length hasn't changed. Pictures of Dallas, Houston, and Austin are much improved. A tip of the hat is given to the oil industry. Some fun was added with names of little Texas towns. Pictures from East Texas, Galveston, Corpus Christi, sites around Houston, Presidential Libraries, Buffalos roaming, Blue Bell ice cream, etc. were added. Sorry I wasn't everywhere and that some pictures don't perfectly match music but I'm close. (Confession the deer playing pictures are from Colorado & the Muleshoe sign was borrowed from the Internet – I visited all the other little towns and even Hoot & Holler and Bug Tussle but someone stole their signs).
For those outside of Texas, clearly the time to visit Texas is in the spring when the Bluebonnets are blooming. The Bluebonnet pictures were taken in the Llano area, the Willow City Loop, Brenham and Ennis.
Turn the volume up as the music is terrific! If you like this click "LIKE" and forward to your friends.
Note: If you go to YouTube and enter Ban Capron in the search box you will find several more slide shows.
Spring 2014
Jim & Kathy Smith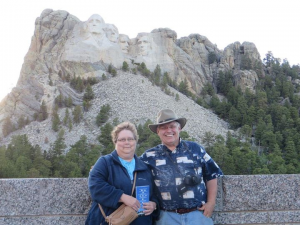 Retirement has been very busy for Jim and Kathy Smith. Jim sent a summary of their experiences in 2013, family activities and a trip through 9 western states to check the scenery. They purchased a travel trailer for that one.
Just to stay busy at home, Jim started a business, Heritage Carving and Woodworking, LLC. He has his very own CNC woodworking machine.
And, as you might expect from the guy who gave us The Advisor for so many years, Jim has his very own website on Facebook for the company. Check it out.
Best of luck Jim & Kathy!
Fall 2013
Joel Richmond
Retired and living in Wauwatosa, WI. Managing five duplexes they own there. They enjoy traveling, including to Arizona for Brewers' Spring Training. Brewers and Packers fans. Happily married to Linda, an interior designer, for 32 years. Enjoy family, friends and happy hours! Life is good!
Lou Davit
Life is good for this JCI retiree. My wife, Jackie, and I were busy this summer revamping the shrubbery and deck at our home. Good outside hard work. We're rewarding ourselves with a trip to Jackson Hole, WY to visit with our son, Chris in early September, then to St. Louis for a family reunion. Also have a three-week trip to Europe planned for November to visit family and friends. One friend is Dominic Limpens and his wife Michelle who live in Brussels. Dominic was here in Milwaukee in training at JCI in 1974, learning the sales and service "ins and outs" of our HVAC controls. His father owned a large HVAC firm in Brussels and was a friend of Fred Brengel. Their first daughter, Noelle, was born here and I was her proxy Godfather. Dominic was quite a tennis player and was #1 in our JCI club. I'm glad for our robust retiree group and the good interesting newsletter. Keep up the good work!
Joe Bartoletti – Remembering Sharlene
Sharlene Wardinski is remembered in Milwaukee as the nice person she was. Few in Milwaukee realize the saintly esteem that the field organization held for Sharlene. She was the "go to" person when someone was in trouble … lead time may have been extended well beyond when a critical item was needed, a job changed (and just possibly someone somehow had forgotten to order) … Time and time again she'd work her magic, finding a solution and saving someone from an angry contractor dependent upon our timely installation. And she'd do it in her soft gentle manner without accusation or incrimination. Move over those of you in Johnson's Pantheon of Greats. There's a lady deserving of some space.
Ron Caffrey
"Ronald Caffrey has received a Distinguished 50-Year Member Award from ASHRAE. The award was presented at the Society's 2013 Annual Conference held in June. The award is given to individuals who have been a member of the Society for a minimum of 50 years, and are a past Society president, Fellow ASHRAE, Distinguished Service Award recipient or have performed outstanding service to ASHRAE or its predecessor societies.
Caffrey is partner, BSC Partners Consultants, Saint Petersburg, FL. He is the co-inventor of "Personal Environments," which was the first major step in the appreciation of increased individual productivity with personal control over temperature, lighting and background noise. Caffrey is also the founding chair of the Intelligent Buildings Institute. He served as a corresponding member of Technical Committees 1.4, Control Theory and Application, and 2.1., Physiology and Human Environment. Caffrey received a Distinguished Service Award in 1976.
ASHRAE, founded in 1894, is a building technology society with more than 50,000 members worldwide. The Society and its members focus on building systems, energy efficiency, indoor air quality, refrigeration and sustainability. Through research, standards writing, publishing and continuing education, ASHRAE shapes tomorrow's built environment today."
ASHRAE press release
In Remembrance
Paul Roundy passed away earlier this summer. He was the President of World Services and was a force behind the Energy Efficiency Forum held in Washington, D.C. He is survived by his wife Evelyn.
Jeannette Cason, beloved wife of retiree Floyd Cason, passed away on June 7, 2013.
Bill Huth passed away July 12th. He worked in Milwaukee as software developer. He is survived by his wife Myra.
Edith Walden passed away July 13th. Beloved wife of JCI retiree Dave Walden.
Jean Eaton passed away on August 5th at the age of 93. She retired after 27 years of service in Milwaukee.
Doug Taipala passed away on August 9th. He was a draftsman in Milwaukee. He is survived by his wife Dona, their children and their families.
Sharon Phillips passed away August 13th. She worked as an administrative assistant in Milwaukee. She is survived by her brother Roger (Marge) Phillips.
Larry Korta passed away on September 6th. Devoted husband of Eleanore, their children and grandchildren. In addition to his work at JCI, he was professor emeritus at MSOE.