Summer Luncheon, Milwaukee
Thursday, July 16, 2015
Alioto's
3041 N. Mayfair Road
Cost: $16.00
11:00 AM Gather – 11:45 AM Lunch – 1:00 PM  Program
Menu Selections
Roast Sirloin of Beef w/ brown gravy (includes salad, salad dressing, potatoes, bread, coffee, tea or milk)
Chicken Parmesan, Side of Mostaccioli ( includes salad, salad dressing, bread, coffee, tea, or milk)
Seasonal Salad with grilled chicken breast (includes salad dressing, bread, coffee, tea, or milk).
 Desert: Sherbet
Program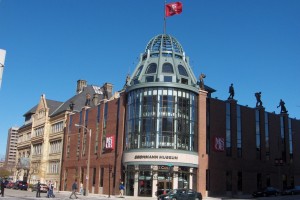 The Grohmann Museum is home to the world's most comprehensive art collection dedicated to the evolution of human work. It is named in honor of Dr. Eckhart Grohmann, an MSOE Regent, Milwaukee businessman and avid art collector who donated his"Man at Work" art collection to MSOE in 2001 and subsequently the funds to purchase, renovate and operate the museum that bears his name. It is located on the MSOE campus.
Our Speaker will be James Kieselburg, Director of the Museum, who will present an overview of the Museum, its collections and exhibitions. With advanced degrees in Anthropology and Museology, he has spent the past 20+ years at the Museums of Beloit College, UW-Milwaukee, Marquette University and MSOE. He is the curator of several recent exhibitions including Bridges: The Spans of North America, A Working Ranch by Jim Brozek and The Art of the Milwaukee Road. He has also published books, essays and articles for the Grohmann Museum, the Center for Railroad Photography and Art, and the Society for Industrial Archeology, for which he serves as President of the SE Wisconsin Chapter.
Please:
Make checks payable to: WSJ Society, and
Mail to:
     WSJ Society
     P.O. Box 1425
     Grafton, WI 53024
in time to arrive by Monday, July 6, 2015
Let us know of any dietary restrictions when making your reservation, or call Janice Peters, co-VP Program at 414.412.0200