Johnson Service Company $100 million Mark!
Johnson Service Company sales exceed the $100 million mark
March 4, 1967 (PD: 201303)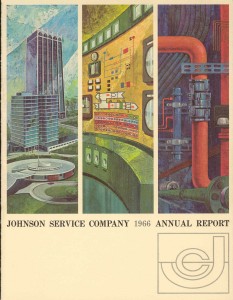 "Johnson Service Posts Big Gains" was the title of a news article printed in the March 4, 1967 issue of The Milwaukee Journal.  The article reported that sales for the fiscal year ended December 31, 1966 passed the one hundred million dollar mark for the first time ever in Johnson's history, and profits rose 20 percent to an all-time high.
The article continued, "The controls firm had sales last year of $113,351,600, up 22 percent from the $92,443,122 in 1965.  Earnings climbed 20 percent to $5,283,185 in 1966 from 1965's total of $4,206,175."  Interestingly, about every 16 years beginning in 1950 and ending in 1997, Johnson Controls' sales increased by a factor of ten, as follows:
1950    Sales exceed $10 million for the first time
1966    Sales exceed $100 million for the first time
1981    Sales exceed $1 billion for the first time
1997    Sales exceed $10 billion for the first time