Articles of Association 1885
Johnson Electric Service Company officers sign first articles of association
April 20, 1885 (PD: 201204)
On April 20, 1885, Johnson Controls' founder Warren S. Johnson (the inventor of the Johnson system of temperature regulation), William Plankinton (a Milwaukee hotelier and financier) and Civil War veteran Captain Irving M. Bean subscribed to the articles of association of the Johnson Electric Service Company (the company's original name).
The company's charter was "to manufacture, sell, and deal in electric and pneumatic apparatus, and to construct and apply the same to public and private buildings in order to regulate temperature or control gasses. …"
The initial capital stock of the company was set at $150,000 (provided by Plankinton) to be divided into 3000 shares at $50 each.  At the first company board meeting on May 1, Plankinton and Johnson each received 1,499 shares totaling $149,900, and Irving Bean received two shares totaling $100.
The articles of association were filed in the Office of the Secretary of the State of Wisconsin on April 22, 1885.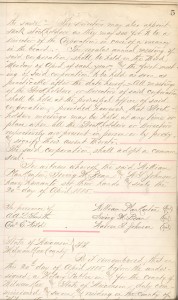 A page from the 1885 articles of association of the Johnson Electric Service Company
(Click picture to view a larger version.)