Barth, GM Hoover Universal Plastic Components
John Barth, future Johnson Controls CEO, receives promotion at Hoover Universal
September 22, 1983 (PD: 201309)
On September 22, 1983, future Johnson Controls CEO John Barth was named general manager of Hoover Universal's Plastic Components Division.
Barth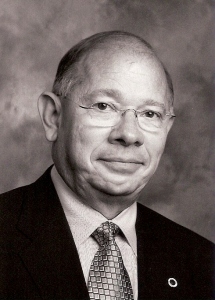 joined Hoover in 1969 as an industrial engineer at the company's Erie, Pennsylvania plant, where he eventually became plant manager in 1976.  He worked his way up through several management positions at Hoover's Plastics Products and Beverage Bottle Divisions prior to his 1983 appointment.
When Johnson Controls acquired Hoover in 1985, Barth held the additional position of general manager of the Plastics Machinery Division.
In 1986, Barth was named a corporate vice president of Johnson Controls.  By 1992, Barth was Johnson's executive vice president for the Plastics Technology Group, Automotive Systems Group, and Battery Group.  An appointment as company president came in 1998, and was followed by his election as company CEO in 2002.
Barth's tenure as CEO was notable for the Blue Sky initiative, commitment to diversity in the workforce and company suppliers, and the acquisitions of York International and Delphi's battery business.
Barth retired as CEO at the end of September 2007 and was succeeded in the position by Steve Roell.