C. O. Wanvig Jr/ Globe-Union President
Chester O. Wanvig, Jr. elected president of Globe-Union
May 20, 1958 (PD: 201605)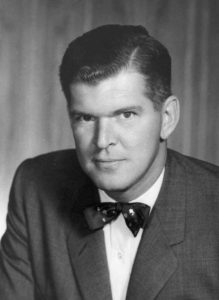 On May 20, 1958, Chester O. Wanvig, Jr. was elected president of Globe-Union after his father, Chester O. Wanvig, Sr., retired from his positions as chairman and president of the company.
Wanvig, Jr. was born in Milwaukee, Wisconsin on August 23, 1919.  He attended Cornell University from 1937 to 1940 to study electrical engineering.  However, he left school one semester before graduating.  According to Wanvig, Jr., "We were going to study generators at Niagara Falls that last semester, and I wasn't much interested.  I thought I would be more useful at the plant."
He was hired at Globe-Union, where his father had been president since 1925, as an industrial engineer in 1941. Before his election as president in 1958, Wanvig, Jr. had worked his way up through the company, holding the positions of personnel director, electronic sales administrator, and vice president of battery manufacturing.
During his tenure as Globe's president (CEO was added to his title in 1973), company sales increased from $59 million in 1958 to $391 million in 1977.  Wanvig, Jr.'s emphasis on engineering development helped foster several significant advances by the company in battery technology, including high-voltage welding, cast-on-strap manufacturing, power-spin processing, and polypropylene cases.
In October 1978, Globe-Union merged with Johnson Controls and became a wholly-owned subsidiary of the latter company.  Wanvig, Jr. retired in January 1979.  He died in 1991.