Chairman's Award for Excellence …
Inaugural Chairman's Awards presented
September 10, 1985 (PD: 201609)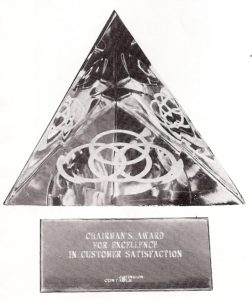 The first annual Chairman's Awards for Excellence in Customer Satisfaction were given to outstanding Johnson Controls employees at the Strategic Management Meeting in Milwaukee on September 10, 1985.
Chairman Fred Brengel personally presented nine Awards to individual employees and employee teams for their contributions to customer satisfaction.  Each employee winner received a Tiffany crystal (see photo below) and a $1,000 check.
The Chairman's Award is the highest company-wide recognition given to employees.  It was created as the President's Award (the name was changed when Brengel became chairman in April 1985) in the fall of 1984 to recognize outstanding employee contributions to productivity, quality, and service.
The Chairman's Awards continue to be presented every year to deserving employees.