Empire State Building/ JSC & York
The Empire State Building opens
May 1, 1931 (PD: 201605)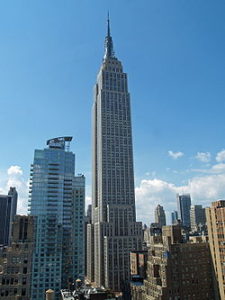 On May 1, 1931, the Empire State Building opened in New York City.  The art deco building has been called the "Eighth Wonder of the World," as it was the tallest building in the world upon completion, and it remained so until 1973.  Even today, the 102-story, 1,250-foot edifice is the tallest building in New York, and the second tallest in North America.
It took just over a year to construct the Building, at a cost of $41 million.  However, an air-conditioning system was not a part of the Building's initial construction.  It would not be until 1951, when the York Corporation (later York International, which was acquired by Johnson Controls in 2005) installed two compressors to cool the Building up to the 41st floor, that Building occupants could enjoy relief from summertime heat.
The Johnson Service Company (today's Johnson Controls) supplied the temperature controls, which allowed Building tenants to regulate individual room temperatures.  In 1953, floors 42 through 85 were air conditioned, and in 1957, the remaining occupied space of the Building was air conditioned as well.  York provided the compressors for the entire air conditioning system.
In 2009, Johnson Controls was part of a team of energy efficiency experts working on retrofitting the Building to reduce its annual energy use by 38 percent.  The improvements, which included an upgrade of the building control system to optimize the HVAC operation, are expected to save the Building's management $4.4 million annually in energy costs.