EverStart — The Best of What's New
Energizer EverStart battery selected for Popular Science honor
December 27, 1989 (PD: 201512)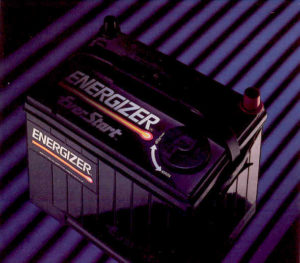 The December 27, 1989 edition of the  Johnson Controls newsletter Briefing reported that the company-made Energizer EverStart battery was honored by the editors of Popular Science magazine as one of the 100 greatest achievements in science and technology and new products for their 1989 "Best of What's New" issue.
The battery was selected as a winner in the automotive technology category because of its revolutionary design, which included a backup battery for emergency starts within the same standard-size case as the primary battery. The back-up battery could also be used in tandem with the main battery for starts on extremely cold days.
To activate the emergency battery, a driver turned a selector dial on top of the battery.  Electronics in the battery selector made it impossible for the backup battery to lose its reserve power when the main battery was engaged.
While the EverStart battery cost about twice as much as a conventional battery, the cost could be made up the first time it prevented having to have a car towed or jump-started by a service station.