Fashion Show at Globe HQ
Johnson Controls' corporate headquarters hosts fashion show and photo shoot
May 23, 1968 (PD: 201305)
The fashion industry showed off new looks at the recently completed Globe-Union administrative and research building, as per a Milwaukee Journal article from May 23, 1968.
Today the building serves as Johnson Controls' corporate headquarters.  Perhaps the building's elegant appearance (it was recognized in 1968 as one of Milwaukee's most stylishly innovative business facilities) led it to be chosen by Heritage Milwaukee as one of the sites for the traveling fashion show and photo shoot.
The day began with a champagne breakfast aboard a paddle-wheeler on Lake Winnebago.  The next stop was Mount Mary College in Milwaukee for a showing of students' designs.  From there, the group traveled to Globe-Union for a luncheon in the board room and a fashion show in the auditorium.  Reflecting pools outside the building served as a backdrop while models previewed designer John Boughton's fall collection.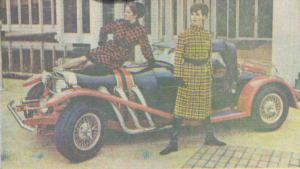 Models pose in front of the Globe-Union (now Johnson Controls) corporate headquarters main entrance in May 1968