Globe in Kentucky, 1957
New Globe-Union battery plant in Louisville, Kentucky holds open house
February 16, 1957 (PD: 201302)
The February 16, 1957 edition of the Louisville Times reported on the open-house celebration held at Globe-Union's recently completed battery production plant in that city.  Built at a cost of $1,500,000, the new 90,000 square foot plant was designed to replace a smaller, antiquated company plant in Cincinnati.
According to Globe-Union's president, Chester O. Wanvig, Sr., the new plant in Louisville enabled Globe to better serve their customers in the area, and provided "a feeder plant helping our plants in other cities when they get bulges in business."  150 employees, 90 of which were transferred from the closed Cincinnati plant, produced 14,000 batteries a day at the new facility.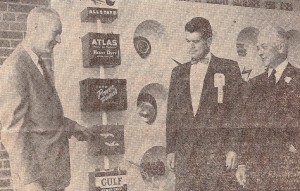 The open house attracted some 200 visitors. Among the guests at the open house celebrating the new Globe-Union battery plant in Louisville were Globe president C. O. Wanvig, Sr. (far right), Globe vice-president C. O. Wanvig, Jr. (second from right), and several other top Globe executives.
Globe-Union merged with Johnson Controls in 1978.
The Louisville plant remained in production until December 1995.