Great Lakes Golf 1925
Globe-Union inherits "Steel King" but ultimately fails to make par
July 2, 1925 (PD: 201307)
The predecessor company to today's Power Solutions Business Unit, Globe-Union, manufactured a number of diverse products in its early days, including radios, roller skates, ice cream freezers, spark plugs, and, of course, batteries.
They also manufactured golf clubs, after acquiring the Great Lakes Golf Corporation in 1931.  A few years before Great Lakes Golf was acquired by Globe-Union (on July 2, 1925, to be exact), Great Lakes Golf applied for (and later received) a trademark to use the name "Steel King" for a line of clubs.
The Milwaukee company also sold club and ball models named for (and endorsed by) some of the golfing greats of the time, including Tommy Armour, Harry Cooper and Bobby Cruickshank.  In addition, Great Lakes Golf offered a variety of golf accessories from tees and cleats to gloves and grip wax.
Globe-Union remained in the golf equipment business until 1934, when poor sales caused by the Great Depression forced the dissolution of Great Lakes Golf.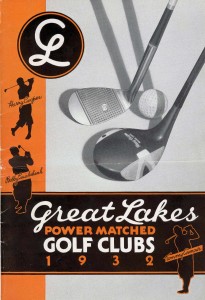 Globe-Union issued a number of golf club catalogs during the time it owned Great Lakes Golf (1931-1934); the golf club catalog shown here dates to 1932