Hoover Prefabricated Homes
Hoover enters the housing construction field
April 30, 1970 (PD: 201304)
On April 30, 1970, the Lamar Democrat of Lamar County, Alabama, announced that the Hoover Ball and Bearing Company of Ann Arbor, Michigan planned to enter the building production field by acquiring The Sanford Company, Sanford Construction Company, Inc., and American Modular Homes Corporation, all of Vernon, Alabama.
The Sanford Company manufactured and sold roof trusses and wall sections; Sanford Construction Company built low cost housing and apartment units; and American Modular Homes Corporation manufactured modular homes of standard materials.
The article explained that, because of the merger, Vernon, Alabama and Lamar County would become "one of the major centers of manufactured housing in the southeast."
In 1981, Hoover sold its building components division to a private investor.  Hoover, which had changed its name to Hoover Universal in 1978 to better reflect its wide array of products – one of which was automobile seats – was acquired by Johnson Controls in 1985.  Hoover's automobile seating division would become the basis for today's Johnson Controls Automotive Experience Business Unit.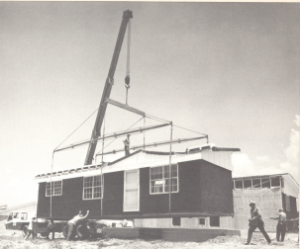 Hoover prefabricated home is guided into place in this early 1970's photo