JC/80 for Standard Oil Building
Johnson Service Company installs JC/80 system in one of the world's tallest buildings
April 6, 1970 (PD: 201604)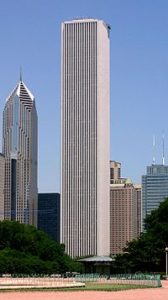 Groundbreaking began on April 6, 1970 for the construction of the Standard Oil Building in Chicago, Illinois.
When completed in 1973, the structure, at 1,136 feet, was the tallest building in Chicago (it was surpassed by the Sears [now Willis] Tower a year later), and the third tallest in the world (behind only the World Trade Center and the Empire State Building, both in New York City).
It also held the distinction of being the world's tallest marble-clad building.  The building employs a tubular steel-framed structural system with V-shaped perimeter columns to resist earthquakes, reduce sway, minimize column bending, and maximize column-free space.
The Johnson Service Company (Johnson Controls' former name) installed its new JC/80 building automation system in the Standard Oil Building to control its 3.3 million square feet of floor space.
Introduced in 1972, the JC/80 system was the first computer-controlled building control system.  In the Standard Oil Building, it instantaneously monitored 1,000 sensor points as well as provided lighting control throughout the building.
The Standard Oil Building was renamed the Amoco Building in 1985 when the company changed names.  It was renamed again in 1999 as the Aon Center.