JC/85/20 BAS Introduced
Johnson Controls introduces the JC/85/20 building automation system
December 17, 1982 (PD: 201512)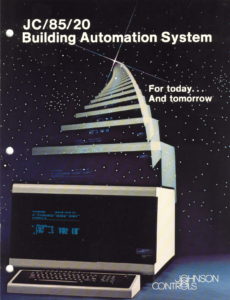 The December 17, 1982 edition of the Johnson Controls Briefing newsletter announced that the company's new JC/85/20 computerized building automation system would be introduced at the International Air Conditioning, Heating and Refrigerating Exposition in Atlantic City the following January.
The JC/85/20 was designed specifically to be cost effective for smaller buildings (in the 50,000 to 200,000 square-foot range).
The system integrated energy management with building security and fire management functions.
Among Johnson building automation systems of the period, the JC/85/20 was unique in that its central processing unit was engineered and manufactured by company employees.