JCI and McDonald's in Moscow
Johnson Controls' subsidiary supplies controls for first Soviet McDonald's
November 21, 1989 (PD: 201411)
It was announced on November 21, 1989 that JCIR, Johnson Controls' Controls Group's West German subsidiary, would supply the temperature control system for the first McDonald's restaurant in the Soviet Union.
The restaurant, located in Moscow's Pushkin Square, was to be the first of a planned 500 restaurants for the country.  Besides being the first McDonald's in the Soviet Union, the restaurant could also lay claim to being the largest at that time, with 900 seats.  When it opened on January 31, 1990, it broke the franchise's worldwide opening day record for customers served.
The Moscow McDonald's installation was one example of Johnson Controls' (and Western companies in general) increased business opportunities created at that time in the Soviet Union and Eastern Europe as a result of Soviet leader Mikhail Gorbachev's economic and political reforms.  These reforms also initiated a string of events that led to the "fall" of the Berlin Wall in November 1989, German reunification the next year, and the dissolution of the Soviet Union by the end of 1991.
As for the Pushkin Square McDonald's, as of 2010 it was the busiest McDonald's in the world.  It is one of more than 200 McDonald's in Russia today.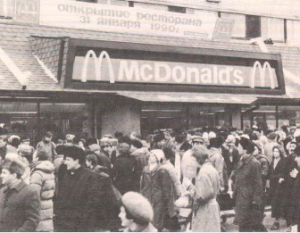 Hungry Muscovites line up outside the first McDonald's in the Soviet Union