JCI — Energizer
Johnson Controls and Eveready agree to market battery lines
November 15, 1989 (PD: 201311)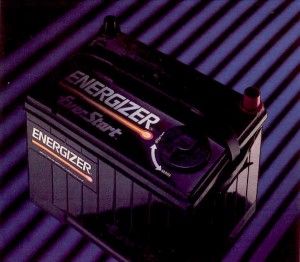 The Waukesha County Freeman reported on November 15, 1989 that Johnson Controls had reached a long-term agreement with the Eveready Battery Company to market automotive batteries under the Energizer and Eveready brand names beginning on December 1 of that year.
Tom Hansen, vice president of marketing and sales for Johnson Controls Battery Group, explained that the company approached Eveready after extensive company research indicated that the highly recognizable Energizer and Eveready brand names were readily transferable to the automotive battery market place. "Attributes such as dependability, long lasting, and good value are common to both primary and automotive battery buying decisions," said Hansen. 
The two companies planned on marketing a full line of automotive, marine, and lawn care batteries using the Energizer and Eveready brand names.  Johnson's newly developed EverStart battery was to be marketed under both brand names as well.
The EverStart was the first battery system incorporating both a fully-powered main battery with a backup reserve battery for emergency use.  If the main battery lost power, a motorist had only to turn a selector switch from "main" to "backup" in order to enable an automobile to start.  Eveready, owned by St. Louis-based Ralston Purina Co., had never marketed car batteries previously.