Johnson Auto 1910
Johnson auto competes in "reliability" tour
July 18, 1910 (PD: 201207)
A Johnson Service Company (Johnson Controls' former name) "Special" touring car was one of twenty-six entrants vying for the Milwaukee Sentinel Trophy in the Wisconsin State Automobile Association's First Annual Reliability Contest held from July 18 to 23, 1910.
The tour began at 7 a. m. on Monday, July 18 at the Pfister Hotel in Milwaukee (a hotel which is still regarded as one of the city's best and is only a block away from the Building Efficiency Business Unit headquarters) and ended there as well on July 23.  In between, the contestants navigated an 808-mile course that wound its way through Wisconsin, with stops at Madison, La Crosse, Eau Claire, Merrill, and Appleton.
Among the auto manufacturers that entered vehicles in the competition were a few names that remain familiar today, such as Cadillac, Buick, and Ford.  Many of the companies with entrants, however, have long since been forgotten to all but antique car buffs, including Kissel, Badger Motor, REO, and Overland.
The winner of the contest was the entrant who completed the tour with the least amount of debit points, which were handed out for infractions mainly having to do with broken parts.  Hence, it was the reliability, and not the speed, of the vehicles involved that was being contested.  Given the primitive state of many of the roads used for the tour, breakdowns were a likely occurrence.  Penalties ranged from having a broken steering rod (500 points) to having a loose chassis bolt (1 point). Any competitor who dropped out of the tour was penalized an additional 1,000 points.  Numerous other rules guided the entrants, among them a prohibition of "the making or laying of bets or wagers."
The winner of the tour was a Buick entry which did not receive a single penalty point.  As for the Johnson car, it came in thirteenth out of the twenty-six entrants, with 43 debit points.  Johnson Service continued to manufacture vehicles for another eighteen months after the contest; the automotive division was ultimately sold to White Truck of Cleveland, Ohio in 1912.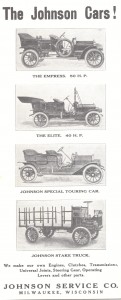 This 1910 ad for Johnson vehicles depicts several models, including the "Special," the car that competed in the Wisconsin State Automobile Association's Reliability Contest
(Click on the picture to see a larger version)