Johnson Service in Space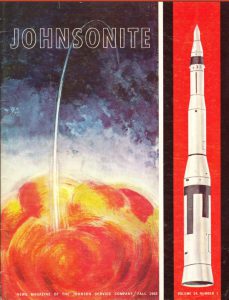 In the Fall of 1962 Johnson Services created the Johnsonite as a promotion for their work with the space program.
Click on the link or the image of the cover to check it out. Johnson Service Company had a long history of great work for the United States government, including making flight instruments to support the war effort for World War II. That collaboration continued in the 60's with work on several missile programs for defense as well as the space program.
We received this copy from Rich Nabholz, Bremen, Indiana, who found it in his desk when he started at the branch office in 1973. Now retired, Rich was cleaning out a bit and sent it to us June 26, 2020. Rich is well known for his loyalty to JCI.
Thanks for sharing this with everyone Rich.