Mechanical Lab at MSOE
Johnson Controls Mechanical Laboratory at MSOE opens
September 10, 1986 (PD: 201409)
On September 10, 1986, the Milwaukee Journal announced the opening of a new $500,000 Johnson Controls Mechanical Laboratory at the Milwaukee School of Engineering (MSOE).
Johnson Controls donated all of the equipment and renovation costs for the state-of-the-art lab, which served as a training ground for both Company employees and MSOE students.  Stocked with the latest HVAC equipment, the lab provided an unusual opportunity for training on a fully -functioning building management system.
"This is an outstanding example of cooperation between academic institutions and industry to further education for both their curricula," said Ronald Caffrey, Johnson Controls' vice president of marketing.
Housed behind large picture-windows at the northeast corner of Milwaukee and Kilbourn Streets, the lab also gave passersby a diverting scene of steam boilers, chillers, fan systems, cooling towers, and other lab components.
Now known as the Johnson Controls Building Environmental Systems Laboratory, the facility is still in use today.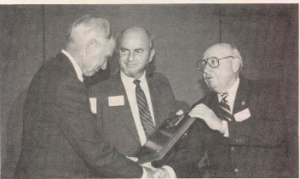 Johnson Controls CEO Fred Brengel (left) accepts a plaque from MSOE president Robert Spitzer (right) to commemorate the new Johnson Controls Mechanical Laboratory, while Fred Luber, chairman of the MSOE board of regents, looks on.