Meet Jim Keyes, CEO
Jim Keyes becomes Johnson Controls CEO
January 27, 1988 (PD: 201401)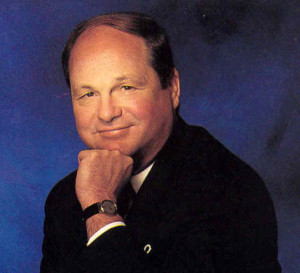 Jim Keyes succeeded Fred Brengel as CEO of Johnson Controls on January 27, 1988.
Mr. Keyes joined the company in 1966 as a systems analyst after receiving a Bachelor of Science degree from Marquette University in 1962 and a Master's degree in business administration from Northwestern University in 1963.  He was named treasurer and corporate controller in 1973, chief financial officer in 1978, and Controls Group vice president in 1984.
In 1985, Jim Keyes was elected executive vice president and chief operating officer, and became a member of the board of directors.  Jim was elected company president in 1986.
Under Mr. Keyes' leadership, Johnson Controls expanded its automotive business to include complete interior systems through a series of acquisitions including Roth Freres (in 1995), Prince (in 1996), and the Becker Group (in 1998).
The company also increased its presence overseas, as it added numerous production facilities in Europe, Asia and South America.  The Metasys facilities management system (introduced in 1990) helped keep the company at the leading edge of the controls industry.
Jim Keyes stepped down as CEO after nearly 15 years in October 2002 and was succeeded by John Barth.