Monitoring the Field Vol 35 No 1
January 1, 1991 (PD: 201805)
(click on the title to see the issue published on this date)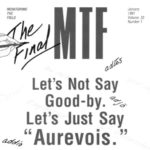 The Final MTF …
With a brief trek through the years, this is the good bye with the promise of a new beginning.
From January 1957 through January 1991, the monthly issues of Monitoring the Field help build a community of people serving customers, building a business, and just enjoying their time together.
That's business at its best!
Oh, and did you catch the note that "MTF is published monthly for employees and retirees of the Field Operations Unit, SSD."
Community membership didn't end when you left the company. These folks understood the value of an alum network … or they just enjoyed each other so much they didn't want to have it end for those leaving. That's some community!
Thanks to all who contributed to its success.