New Name "Johnson Service"
"Johnson Electric Service" becomes "Johnson Service"
June 30, 1902 (PD: 201206)
The company's name change from "Johnson Electric Service Company" to "Johnson Service Company" occurred 111 years ago, at a board meeting on June 30, 1902 in Milwaukee.
At its founding in 1885, the company name included the word "electric," yet in the ensuing 17 years, thermostat technology had changed to wholly pneumatic, so "electric" was no longer an appropriate descriptor.
Company founder Warren Johnson himself suggested the new name, and after consideration was given to other names suggested by shareholders, a vote was taken.  While there was not unanimity, "Johnson Service Company" was clearly preferred, and the motion to adopt the name change was carried.
Johnson Service Company would remain the official company name until 1974, when the company was renamed Johnson Controls.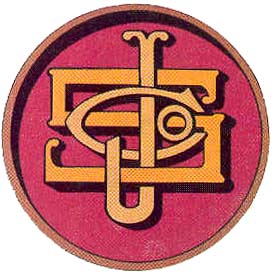 The new company logo after the name change, 1902