Paris World's Fair
Company founder receives silver medal at the Paris World's Fair
August 18, 1900 (PD: 201208)
At the beginning of 1900, Johnson Controls' founder Warren Johnson established, along with fellow inventor Charles Fortier, the American Wireless Telegraph Company (AWTC) to develop and market Johnson's experiments in the field of wireless telegraphy.
A few months later, one of Johnson's early wireless experiments won a silver medal at the World's Fair in Paris.  (An accompanying certificate dated August 18, 1900 testifies to AWTC's second place win.)  Interestingly, noted Italian inventor Guglielmo Marconi's entry took third place behind Johnson at the Fair.  (Marconi, who would go on to win the 1909 Nobel Prize in Physics, is generally credited as the inventor of radio.)
While Johnson and his AWTC ultimately proved unsuccessful in creating a viable wireless system, it was noteworthy for erecting the first radio tower west of the Atlantic coast, and for achieving the first wireless communication from ship to shore on a body of fresh water.  The AWTC continued experiments in wireless technology until Warren Johnson's death in 1911, after which the company was dissolved.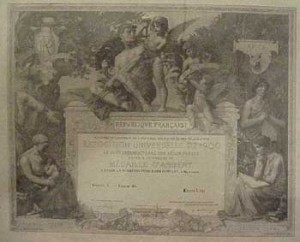 Warren Johnson brought home this certificate and a silver medal which he won for his wireless experiment at the Paris World's Fair in 1900.