Rambler . . . Speed Record?
Globe-Union electric vehicle rambles to speed record 
September 17, 1970 (PD: 201309)
The September 17, 1970 edition of the suburban Milwaukee newspaper Fox Point/Bayside Herald featured an article about Globe-Union's new electric car – a modified 1969 American Motors Rambler American.
Powered by twenty Sears "DieHard" batteries (made by Globe-Union) housed in the trunk, this automobile was able to attain speeds of up to 55 miles per hour with a cruising range of 40 to 50 miles on one charge.  It took four to six hours to fully recharge the batteries, at a cost in electricity of about $0.32 (1970 prices).
The car was developed for experimental purposes, but was also used as a promotional tool to highlight the company's interest in electric cars as a partial answer to the growing problem of air pollution.  As such, in September 1970 it was displayed at several Sears outlets in the Milwaukee area, culminating with a time trial before a USAC (United States Auto Club) race at Milwaukee's State Fair Park.
Although it was unable to hit its top speed of 55 mph, the vehicle did set a track record of 46.73 mph for an electric car.  Paul W. Leighton, general manager of Globe's battery division, thought that a commercially-viable electric automobile was "at least seven years away."  Needed, he said, were more advanced motors, a better method of converting battery power to variable speeds, and more power-efficient lead acid batteries.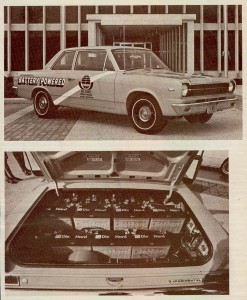 Globe-Union's Rambler American electric car parked in front of the company's headquarters (now Johnson Controls' world headquarters), and a view of the twenty Sears "DieHard" batteries that provided the power supply.