Sales Agreement 1885
Johnson Electric Service Co. agreement with Hazen Mooers
July 8, 1885 (PD: 201407)
On July 8, 1885, the recently incorporated Johnson Electric Service Co. (JESC) signed a revised sales distribution agreement with Hazen Mooers of Milwaukee.
The original agreement of April 11, 1885, which pre-dated the organization of the JESC on May 1, gave Mr. Mooers the right to sell JESC-manufactured temperature regulation apparatus in Wisconsin and Minnesota.  This sales agreement, the company's first, marked the beginning of what today is a worldwide sales distribution system.  While the JESC originally only engaged in manufacturing, the revised Hazen Mooers agreement allowed the JESC to take sales contracts in Minnesota and Wisconsin as well.
The JESC signed a number of ensuing agreements with various agencies with the purpose of establishing a nationwide sales and installation network.  In return for the right to sell and install JESC equipment, these agencies would give the JESC partial stock ownership.
In the years before 1900, these agencies met with varying success.  Disappointed with the overall performance of the subordinate companies, and with a few in particular, company founder Warren Johnson and the JESC board of directors discussed buying out these companies to assure central ownership and control.  In April 1900, the board approved a plan by which the JESC would reincorporate with all other companies involved in the sale of company products under the name Johnson Electric Service Company.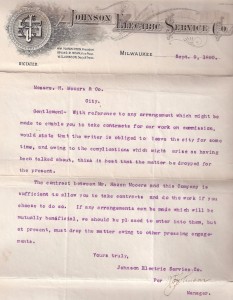 A letter from Johnson Controls founder Warren S. Johnson to H. Mooers & Co. dated September 9, 1890
(Click on the picture to see a larger version)