Senate Productivity Award(s)
Senator William Proxmire presents Johnson Controls with the Senate Productivity Award
May 31, 1985 (PD: 201405)
Johnson Controls' Briefing newsletter from May 31, 1985 announced that Wisconsin Senator William Proxmire had presented the company with the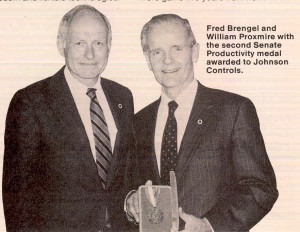 Senate Productivity Award.
Created by an act of Congress in 1982, the United States Senate Productivity Award is given by U. S. Senators to the company in their state that has shown the greatest increase in productivity, and to companies that have shown their commitment to innovation, quality, and customer service.
In making the announcement, Senator Proxmire praised Johnson Controls and its employees by stating: "If our state and nation are to be successful in increasingly competitive markets, more businesses need to follow and adopt your firm's total commitment to excellence and efficiency."
This was not the first time that Johnson Controls won the Senate Productivity Award.  Earlier that same year, Johnson Controls' Engineered Piping Systems operation in Clearfield, Utah received the award from Utah Senator Orrin Hatch.