Silver for Warren and Charles — Bronze for Guglielmo!
Warren Johnson's wireless communication experiments
November 28, 1899 (PD: 201411)
The St. John's Daily Sun of New Brunswick, Canada, reported on November 28, 1899 that Professor Warren S. Johnson (the founder of Johnson Controls) and Charles L. Fortier made several successful tests of their wireless telegraph equipment in Milwaukee's Plankinton House Hotel.
They were able to telegraph a message, without the use of wires, through seven walls.  A second successful test involved transmitting signals through three fireproof vaults and an ordinary telegraph switchboard.  Another test involved placing the wireless telegraph equipment inside one of the closed steel vaults.  "Both doors were closed and the combination locks turned.  The signals were then transmitted clearly from the inside of the vault to an adjoining room," the newspaper reported.
Johnson maintained that his invention was "materially different" from that of famed wireless inventor Guglielmo Marconi, and that his system had overcome the flaws in Marconi's invention. A large gathering of local dignitaries witnessed the experiments and took turns having their own messages transmitted through the hotel.
Johnson and Fortier would form the American Wireless Telegraph Company (AWTC) in January 1900 to formalize their scientific and business partnership.  Later that year, the pair took home a silver medal from the World's Fair in Paris for their wireless apparatus (Marconi's device received the bronze medal in the same competition).
However, the AWTC ultimately proved unsuccessful in creating a viable wireless system.  After Johnson's death in 1911, the AWTC was dissolved.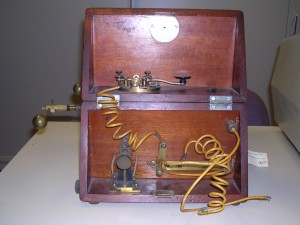 One of the AWTC's wireless devices, preserved in the Johnson Controls archives