Tanks for Miller Beer 1901
Johnson Electric Service Company helps Miller Brewing get tanked
May 11, 1901 (PD: 201205)
A Johnson Electric Service Company (today's Johnson Controls) sales contract ledger entry from May 11, 1901 indicates a sale of two pasteurizing tanks to Miller Brewing Company of Milwaukee.
Although Johnson Controls' history is generally associated with temperature regulation systems and devices, Company founder Professor Warren Johnson's laboratory spawned a variety of products sold by the Company in its early years, including springless door locks, chandeliers, puncture-proof tires and yes, pasteurizing tanks, too.
The contract book also notes that Miller paid $380 for the tanks and some extras in August of the same year.  The Miller Brewing Company was founded in Milwaukee by Frederick Miller in 1855 – making it one of the oldest businesses in Wisconsin (and thirty years older than Johnson Controls).
Miller was purchased by South African Breweries in July 2002 to form one of the largest brewers in the world – SABMiller plc.  On October 10, 2007, SABMiller and MolsonCoors agreed to combine their U. S. operations in a joint venture called MillerCoors.  SABMiller owns 58% of the unit, which operates in the United States but not in Canada, where the Molson Coors brand is strongest.  Molson Coors owns 42% of the joint venture.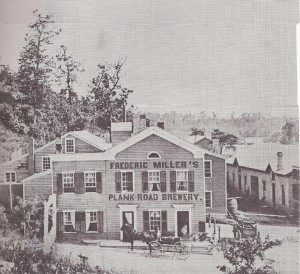 The first Miller Brewery in Milwaukee's Menomonee Valley