Thomas Shipley — Innovator
York president Thomas Shipley passes away at the age of 68
January 22, 1930 (PD: 201201)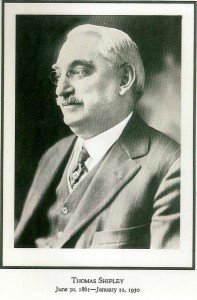 The man responsible for transforming the York Ice Machinery Corporation (later York International, which was acquired by Johnson Controls in 2005) into the largest refrigeration equipment manufacturer in the nation, Thomas Shipley, died on January 22, 1930.
Born on June 30, 1861, Shipley grew up in Jersey City, New Jersey, where he helped support his family while going to school.  After graduating from the Cooper Institute of New York in 1881, Shipley became part owner of a small but successful engineering firm. In 1886, he joined the Frick Company, where he gained a growing reputation in the refrigeration industry as an innovator.
Unhappy with the conservative business atmosphere at Frick, Shipley didn't hesitate to sign on with York when he was offered a free hand to manage the company by York president Phillip Glatfelter in 1897.  He immediately set about to modernize the company's organization and equipment.
Shipley eliminated the company's other product lines to concentrate on the production of ice and refrigeration machinery.  He used his engineering expertise to create more efficient ice-making machines and hired salesmen with engineering backgrounds to sell them.
York's business had improved so dramatically by 1899 that Glatfelter promoted Shipley to vice president in that year.  By 1906, the company employed over a thousand workers, had established branch offices across the country, and had begun sales overseas.
In 1927, when W. L. Glatfelter (Phillip's son) retired, Shipley was named president of the company.  Shipley was also the driving force behind the formation of the Ice Machine Builders Association of the United States in 1903, an organization that was responsible for the standardization of ratings used to measure the capacity of ice-making and refrigeration equipment.