Victor Posner, a bump in the night!
Corporate raider Victor Posner denied in attempt to stop Johnson Controls' acquisition of Hoover Universal
March 27, 1985 (PD: 201403)
On March 27, 1985, The Wall Street Journal announced "Posner Bid to Block Johnson Controls' Purchase Is Denied." The article went on to explain that a federal court in New York denied the bid by Victor Posner, owner of APL Corp. and many other companies, to halt Johnson Controls' purchase of Hoover Universal.
Financier Posner, one of the most notorious corporate raiders of the 1980s, filed the lawsuit in early March 1985 in an attempt to halt Johnson Controls' proposed acquisition of Hoover Universal in a cash-and-stock transaction valued at $500 million. At the time, Posner, through APL and nine other companies, owned 19.8% of Johnson Controls' common stock and was its largest stockholder.
Fred Brengel, CEO of Johnson Controls, sought the merger with Hoover in part as a strategy to fend off a possible takeover bid by Posner. The Hoover acquisition, which was consummated two months later in May 1985, resulted in Johnson Controls' entry into the automotive seating business.
In July 1985, Johnson rid itself of Posner by buying out his shares of JCI stock.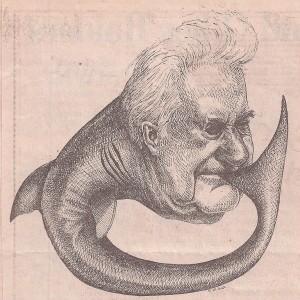 Victor Posner is caricatured here as a shark biting its own tail