York International Formation
Borg-Warner spins off York International
April 9, 1986 (PD: 201404)
On April 9, 1986, Borg-Warner spun off York International as a publicly-held corporation listed on the New York Stock Exchange.
York had been part of the Borg-Warner conglomerate since its acquisition in 1956.  However, as Borg struggled economically in 1985, rumors began surfacing that it would sell its Air Conditioning Group (as the York Division was called at that time).
In July 1985, Borg announced its intention to launch its Air Conditioning Group as an independent company (called York International) that would be owned by Borg's shareholders.  Borg's board of directors approved a stock distribution plan for the new company and named Stanley Hiller, Jr. as the new company's CEO in September 1985.
York's yearly revenues grew from $1.8 billion in 1988 to $5 billion in 2005 as the company established itself as the largest U. S. corporation devoted solely to the manufacture of HVAC equipment.
On December 9, 2005, Johnson Controls announced the completion of its $3.2 billion acquisition of York, whose products were seen to complement those of JCI's Building Efficiency Group, of which York became a part.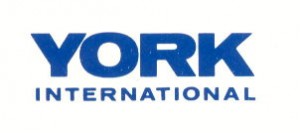 York's logo as it looked in 1987, one year after it was spun off from Borg-Warner