York Mfg.: 1st Stockholder's Meeting
The York Manufacturing Company's first stockholders meeting
September 7, 1874 (PD: 201209)
The York Manufacturing Company (later York International, which was acquired by Johnson Controls in 2005) held its first stockholders meeting on September 7, 1874.
Stephen Morgan Smith was elected the first president of the newly formed company.  Smith contributed two patents for his "Success" washing and clothes wringing machines to the nascent venture.
Businessman Jacob Loucks, who had invested $10,000 in the company, was elected secretary.  Smith was to be paid $1,200, and Loucks $1,000 per annum.
Oliver Bollinger, the company's first engineer, was to be paid two dollars a day to serve as factory foreman in charge of fourteen employees.  Bollinger had invented a turbine water wheel, which together with the "Success" machines, were the company's initial products.
Three men who shared in the rights to Bollinger's invention, namely George Buck, Robert Shetter and H. H. La Motte, decided to join the new enterprise as well.
In exchange for $7,000, La Motte gave his machine shop and its equipment to the company to use as its first factory.  It would not be until 1885 that the company would begin to manufacture the ice and refrigerating machinery that led to its long-term success.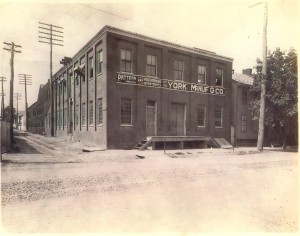 H. H. La Motte's former machine shop on the bottom floor of this building served as the first factory of the York Manufacturing Company