Bowl for Kid's Sake 2015
February 7, 2015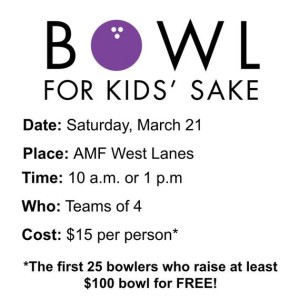 Update April 2, 2015: The event was a great success!
Here's the report sent to us by Megan Strock, Building Efficiency HR:
"The 2015 Bowl for Kids' Sake bowling tournament was a massive success. We raised over $8,200 for Big Brothers Big Sisters ​of Milwaukee and Waukesha counties. Although we didn't beat last year's fundraising efforts by much, our team participation more than doubled. We didn't see any retirees this year, but we hope to see some next spring! Hopefully I can get details to you sooner to help get the communication out because I completely agree with you, I think it would be worth the effort!"
We agree Megan. Congratulations on a successful event. Members, please watch the News for information on great events like this.
This is a fund raising event open to all Johnson Controls employees and retirees. Here's an opportunity to do some good while having some fun. Big Brothers Big Sisters certainly does some fantastic work in our community.
Megan Strock, our good friend at Building Efficiency Human Resources, wanted to make sure that we knew retirees are invited and encouraged to participate in this event. Those 'teams of 4' could include you with friends, retired or working. If you've been looking for an excuse to get back together some of your colleagues, this might just be it. Give them a call.
Here's a link for more information: Bowl for Kid's Sake.
And, here's where you can register: Registration Form.
Note that team registrations are due by March 6, 2015.
The location is AMF West Lanes, 7505 W Oklahoma, Milwaukee. It looks like a great place to have some fun.
For more information on the Big Brother Big Sister programs, check in at these sites:
Big Brother Big Sister Big Couple Volunteer
Check it out and have some fun!
HEY! I just noticed that not only are employees and retirees of Johnson Controls invited to participate, the registration form includes contractors to Johnson Controls in the invitation. Now, retirees are know to have some pretty good networks that include those contractors — any ideas how to include them in the fun?