Breaking News: Clay on Sustainability in January
November 18, 2014
Plan now to join us for the Winter Luncheon, Milwaukee on Thursday, January 15, 2015.
This is the first program planned by Janice Peters and Jim Pasterczyk our new co-VP Program. And they have got a winner!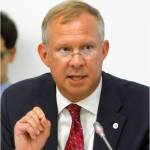 Clay Nesler, VP Corporate Sustainability for Johnson Controls will be our featured speaker. Clay will bring us up to date on the activities of Johnson Controls and his personal role in sustainability initiatives. In case you don't know Clay, here's the 1st paragraph of his bio:
"In this role, he is responsible for global environmental affairs and corporate social responsibility. He also leads the company's global environmental sustainability council and environment and sustainability activities across the company's global manufacturing operations. Since joining Johnson Controls in 1983, Clay has held a variety of leadership positions in research, product development, marketing and strategy in both the United States and Europe. In 2009, he started the Johnson Controls Institute for Building Efficiency which has recently been integrated within the World Resources Institute Ross Center for Sustainable Cities."
If you do know him, you know that he is creative, interesting, enjoyable, . . . and lots of other good stuff.
That's just the start, learn more at the luncheon. We are very fortunate to have Clay make this commitment to be with us.
Did you ever wonder how all this sustainability stuff fits into good business? Well, be at the luncheon to find out.
Oh, and for lunch, Janice and Jim have arranged for a selection from three, not just two, of Alioto's fine menu items. They appear to be on a path to do at least one better than before. Great work all around! Good food, great friends, and challenging ideas from someone leading the charge on sustainability, can you beat that?
For more information watch for the announcement in the Newsletter, and visit The Hub/Upcoming Events here on WSJSociety.com for information on all upcoming events as it becomes available.