JCI Tennis Team 1984
March 25, 2016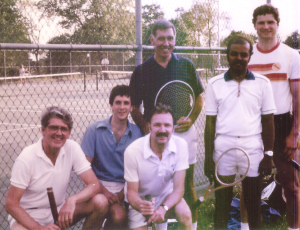 In 1984, the very talented Johnson Controls Tennis Team won the championship of the Industrial Tennis League in Milwaukee.
Do they still have those leagues today? They were great fun.
The members of the team were from left to right: Ron Caffrey, Steve Thompson, Lou Davit, Jack Vierheilig, V. Vairvvan, and Mike Kafka.
How many did you know and recognize?
Thanks to Lou Davit for sharing this picture with usl
Editor's Note: Do you have any pictures that you would like to share? Everyone enjoys recalling these stories and the people who shared their Johnson Controls career experiences. Please send the in with a note on the story behind the photo, email or snail mail will work just fine. Then, look for your story here and in the Newsletter.