Lunch with Steve Thompson was Great!
May 15, 2016
Spring Luncheon, April 21, 2016 was a hit!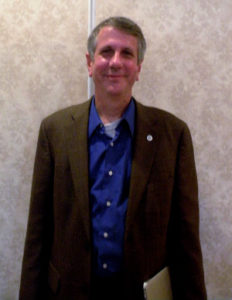 Our long time friend, Steve Thompson, VP Connected Facility Offerings, was our featured speaker. Steve brought us up to date on building systems technology. Besides the opportunity to touch base with Steve, I think the promise of messing around in technology again drew some members we haven't seen for awhile. It was great to see everyone.
In the past we connected building systems with an array ever developing technologies, each with lots of options. A new technical solution called the "Internet of Things" is exploding the number of options. It has systems talking to each other as well as interacting with people; and, sensors and actuators can be put just about anywhere. Combined with "big data" software solutions that can find meaning in all that data creates a platform for really connected facility systems and services.
As is his talent, Steve made the technology easy to understand, and hit on the real impact for customers by describing a few customer applications. It looks like Steve has remained at the center of things.
Thanks Steve for taking the time to share your work with us.