Luncheon Update
January 8, 2015
Update January 8, 2015
Unfortunately, Clay Nesler has been called away to a meeting in Vienna next week and will not be able to participate in our Winter Luncheon.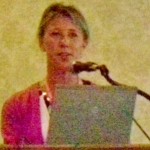 It is our good fortune, however, to have Karen Sommer, Director, Global Public Affairs with us to provide the overview of Johnson Controls sustainability strategies.
You may remember that Karen led the project to create our website, WSJSociety.com. She's been promoted since then, talent rewarded! 
Come and learn about the current state of sustainability at Johnson Controls and reconnect with Karen.
The forecast has a possibility of temps in the 30's. That's balmy compared to this week!  See you there.