My Personal Bucket List by Barbara Helgesen
June 10, 2014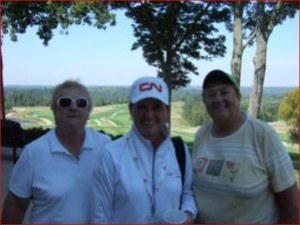 Since the one thing that I love to do now is to golf, my desire is to play golf courses that entice my interest. One such golf course has been on my mind for about four years. We were accepted to play in the Alice Dye Women's Golf Invitational, in French Lick, Indiana in Sept, 2013. Alice Dye is Pete Dye's wife and a nine-time Indiana Women's Amateur champion.
We arrived at the Pete Dye course on Monday, 9/23, met our Forecaddie and were whisked off to our shotgun hole #5. The most important thing was to make sure you teed the ball up and it go directly on the fairway of this Links course. Each and every hole would leave an impression on your thought process. If you needed help, the Forecaddie would be at your assistance. One such hole on the back nine took our breath away. We stood on the highest mound overlooking fescue and a fairway that went out forever, so it seemed, and a green awaiting us at the end. I was volunteered to go first and hit my ball clear off the tee and over the fescue to the right lower part of the fairway. Since it was okay the others after me proceeded and successfully got off their shots. I'm not a professional, but it felt good to still play golf at this special course.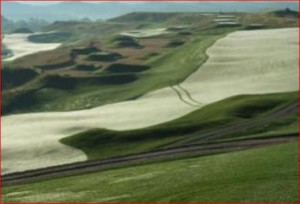 On Tuesday, 9/24, we went to the Donald Ross course. The course was one with more trees and some differences like raised greens, fescue valleys to go over to get to the green and great golf.
Then on Wednesday there was the Practice Round for the Women Legends. We enjoyed some conversations with them during their practice day before they played with the amateur's on Thursday.
If you ever have a chance to take a trip to French Lick, do take a free shuttle van to see the courses from the West Baden Springs Hotel (the hotel celebrated it's 100 yrs; the Museum (which has history of French Lick, with miniature circus scenes behind glass, the history of their mineral spring water, etc.) and the Winery (which had a Vintage Café with Italian Cuisine & wine tasting). There is also a casino near the French Links Resort which had a special contest of slot machines that the golfers entered with prizes for the highest points accumulated during an allotted time besides just playing the slot machines and table card games. It is a great getaway vacation, don't miss it!