Reunion 2014 Meet-Up @ HQ
November 17, 2014
Here's the story for those who didn't find it in the Photo Gallery — our mistake for not posting it here!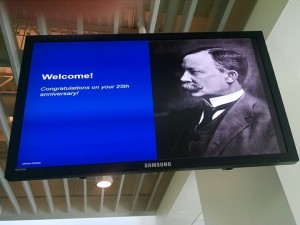 It was a beautiful Fall day in Milwaukee, sunny and warm. This was the 25th Anniversary of the founding of the WSJ Society, time to celebrate and review.
Meet-up at HQ was hosted at Corporate Headquarters.
We gathered over breakfast, caught a quick tour of the campus and settled in to meet CEO Alex Molinaroli. Alex took us through the vision for Johnson Controls future and strategies in place to get there. There's a lot happening! After his presentation, Alex opened the floor to questions. What a great exchange it was! From global business to retirement issues, Alex took the time to make sure we understood the logic and facts. All appreciated the time and energy Alex gave us on this Saturday morning.
At 25-years, it's time to review. Emily Callaghan led us in a brainstorm to consider just what the WSJ Society might become in the next 25 years. Emily gave us a great start. We'll continue that in the Newsletter and at WSJSociety.com.
"Ambassadors of Lifelong Engagement" was next. Thanks to our volunteer ambassadors we all shared our experiences. This was a 'wisdom of the crowd' kind of thing, 'no one of us knows more than all of us,' it was great!
We closed the day with a few drinks, dinner, dancing, and lots of conversation. We can do this again, see you at Reunion 2016!
Be sure to check out the Photo Gallery for over 130 pictures taken at Reunion 2014 — thanks to Ron Kuta. Here's the link: Reunion 2014 Meet-Up at HQ
Submitted by Jude Anders,
VP Communications