Solar in Shorewood
August 23, 2014
By Lou Davit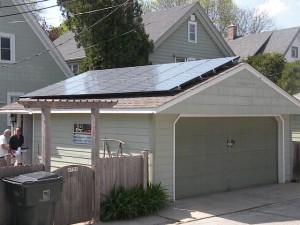 The idea started last November with a trip to Europe.  I was convinced when we hit Freiburg.  Lou, Jackie and Chris Davit visited relatives and friends in France, Germany, Austria and Switzerland.  But Freiburg, Germany, "The Green City", fueled my desire to do something with alternative energy when we got home.
In February I received a mailing from the Sierra Club with some enticing deals (incentives) on installing solar.  I talked to a sales rep from H&H Solar in Madison and we made a deal to install 14 panels on our south-facing garage roof.  H&H has installed quite a few systems in Milwaukee, including a large array at the main branch of the Urban Ecology Center in Riverside Park.  A team of two guys installed the panels in three days in May.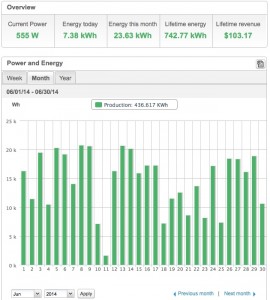 The panels have been producing more electricity than we use… our WeEnergies June bill for electricity was a credit!  A neat part of the system is the inverter connection to the modem in our house and then to our computer so we have a continuous display of our electricity production, and even a reading on individual panels.  My JCI tennis buddies; Chuck Augustin, Pete Murray and Dick Stevens were at our house for tennis and a cookout, and they were quite impressed with the system.
So, go for it!  Go green!  And if you go with H&H, tell them I sent you.
Editor's Note: Get an update on Lou's solar experiences at Reunion 2014. Lou will be one of the discussion leaders in the "Ambassadors of Lifelong Engagement" event. And, please bring your story to share.