Spring Luncheon 2015
May 4, 2015
WOW! The UWM School of Freshwater Science is something else.
At our Spring Luncheon, Dr. David Garmon Dean of the School of Freshwater Science took us through a quick tour of the work going on at the school, the advanced technology being developed, and the impact on the Great Lakes, business, and quality of life, local and global.
The origin of the building was as a tile factory. Now it's home base for a world class, high technology research center dealing with one of our most precious natural resources — water. How's that for upgrading business resources?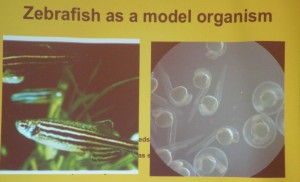 There's a Genomics Center sponsored by MMSD and Kikkoman — excellent soy sauce requires excellent water. Did you know 97% of zebra fish genome matches our own? Zebra fish are used as a model organism in the study of environmental and human health.
There's an Aquaculture Center working at the forefront of sustainable private intensive aquaculture production — that's sturgeon and yellow perch.
Did you know that while the sturgeon limit in Michigan is 5, in Wisconsin it's 1,500 thanks to the work done here. Next up, Friday Fish Fry of yellow perch — that's what really made Milwaukee famous.
There's even a Center for Water Policy "to provide interdisciplinary solutions to resolve regional, national, and international problems related to the protection, restoration, and conservation of freshwater resources."
And, you may have been reading about the The Water Council and The Global Water Center the water research & business accelerator center in Milwaukee's Walker's Point neighborhood. This is a special place where research and business meet to create new solutions to environmental challenges and business opportunities.
This is also where business gets to meet talented students and professors, to their advantage in attracting the best talent in the world. JCI might be interested in the researchers and their work on graphene-based sensors for air and water quality.
Please visit the UWM School of Freshwater Science website to get more more of the story — it's fantastic!
And to top that off, we had three first timers, Mary Kaczmarek, Cindy Skavlem, and Bill Taylor, welcome to you all.
Thanks to Janice Peters and Jim Pasterczyk, co-VP Program for a great luncheon.