Spring Luncheon 2019
May 7, 2019
Event: April 18, 2019
It's Spring time to think about getting out, shaking off the winter blues!
How about an eBike for everyone?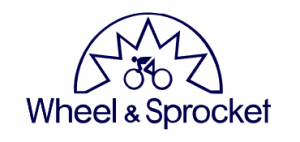 This Spring Luncheon we took on that question, seriously. Thanks to Kathy DeVries, Wheel and Sprocket Marketing Manager, we got the straight scoop. eBikes enable micro-mobility; more folks can get around, handle hills, while getting a good physical workout with an eBike. Pedal assist is the preferred eBike drive configuration with an option for a 20 mph limit or 28 mph limit. The idea is to support the riders efforts, enabling more people to enjoy the ride without over exerting themselves.
This is big business. Last year in Europe, 80% of all bike sales were eBikes. Kathy expects that to be the case in the US over the next 10 years. More local, bike tourism is a $1.4 billion dollar business, bikes a $2.5 billion dollar business both in Wisconsin alone. How about that? And, we have some of the best bikes and bike trails right here — all served well by Wheel and Sprocket and high quality dealers like them.
You can get far more of the technical information at the Wheel and Sprocket website and the video that Kathy played in her presentation: Wheel & Sprocket Electric Customers.  (For those reading this in the Newsletter, just do a web search for "Wheel and Sprocket Electric Bike Customers." It's the YouTube video near the top of the search result.)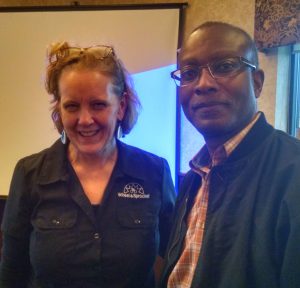 Now, on a personal note, we got to re-connect with our first time luncheon participant, George Lewis. Hopefully the first of many — it was great to meet George.
And, as you might have guessed, Kathy DeVries is the daughter of Neil and Judy DeVries, our long-time members. They made it a family affair — Neil and Judy are rightfully proud of Kathy's success. Clearly Kathy is enjoying her work.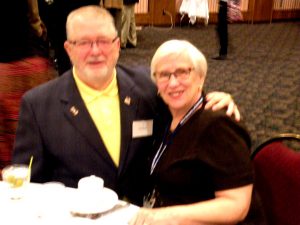 And, a special note, our thanks to Ron Kuta for his long service as both secretary on the Board and official photographer at our events. Ron and his wife, Judy, are doing a bit of downsizing in their busy schedules. They've kept a very busy pace for years, doing lots of good stuff! Thanks to you both for your contributions to veterans, the community, and the WSJ Society. Ron and Judy intend to be regulars at our luncheons, but Ron has retired from those other official duties. Well-deserved, thanks to you both.
Submitted by:
Jude Anders, Editor
Spring Luncheon Photo Gallery