Summer Luncheon 2019
July 25, 2019
Event: July 18, 2019
A great time was had at the Summer Luncheon!
First off, we got to welcome Ajit Tipnis to his first luncheon. It was good to meet Ajit and learn about his career experiences at Battery.
There were a good number of members at this luncheon who we have not seen for awhile. That made for great catching-up conversations. Check out the photo gallery at WSJSociety.com to see how many you recognize.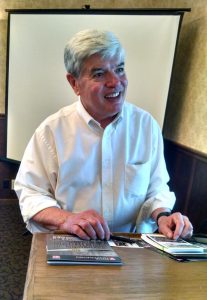 Then, our featured speaker, Tom Fehring, caught our attention with a fantastic introduction to the creation of industrial Milwaukee. Tom wrote a book on it, "The Magnificent Machines of Milwaukee and the Engineers Who Created Them". The stories are fantastic – like that of our own Warren S. Johnson, 10 pages in the book. But these are not just stories from the past. I think they offer valuable lessons for today, high tech and all! Here's a few that I found interesting:
Learn from failure: How about the effort in the early 1800's to create a canal from the Milwaukee River to the Rock River promising a water route from New York through Milwaukee to the Mississippi River? It failed! Railroads became the preferred transportation for people and commerce. But the completed segment with the North Avenue Dam created a waterway elevated from the Milwaukee River. Re-frame that situation from 'failure' to a source of water power for factories in the heart of the city.
Open Innovation: Is 'makerspace' a new concept? Hardly, in the mid-1860's G. Kleinstuber opened the machine shop in his brass foundery to local inventors. That collaboration contributed to inventions of Carlos Glidden, (steam-driven plow), Mattias Schwalbach, (sewing machines), and Christopher Latham Sholes (printing devices & typewriter).
Talent Development: Is there a shortage of skilled workers for your business? Invest in education! Tom has an entire chapter on Milwaukee's Trade School and Engineering Environment. Oh, and to give the students some hands-on experience in making things. How about having them build and sell new technology batteries? That became so successful, it was spun out from the School of Engineering (MSOE) in 1912, as the Globe Electric Company, (Globe-Union).
Entrepreneurial Spirit: We're familiar with the story of Warren S. Johnson, an entrepreneur professor who identified a problem, created a technical solution, teamed with a 'venture capitalist' to start the Johnson Electric Service Company in 1885.
Talent Porosity: There's another about an engineer who pitched his idea to his boss. Who rejected it. The engineer walked across the street to start his company there.
Tom's book is full of stories like that engineer and Warren, entrepreneurs who created industrial Milwaukee, companies that eventually served world markets. These are people who did change the world. In today's terms, Milwaukee had a very prolific 'collaborative innovation ecosystem.'
The stories are told with loads of pictures. You'll recognize many of the company names and locations; and, you'll be surprised by others. The book is available online and at bookstores. Milwaukee Public Library has twelve copies spread around the system.
Thanks Tom for a great presentation and your work to bring Milwaukee's past to inform our present challenges.
P.S. Tom didn't mention it in his presentation, but on page 305 in the book you'll find that in 1905, the Allis-Chalmers plant in West Allis provided 1.4 million square feet of floor space designed to employ 10,000 people as a model of twentieth-century industrial efficiency. Might there be lessons in that experience for the Foxconn Project as we create a model of twenty-first century production?
While we're on the topic of learning from history, checkout the Johnson Controls Timeline stories on our website, WSJSociety.com. This is a compilation of stories (over 300) provided by Ken Wirth, Historian, on the founding and development of the companies that played a role in the development of Johnson Controls. These are business and personal stories of innovation, service to customers and community. There are lots of lessons for today in their contributions since Johnson Controls founding in 1885.
Submitted by:
Jude Anders, Editor
Summer Luncheon Photo Gallery