Tennis/Lou Davit & Andre Agassi?
August 14, 2013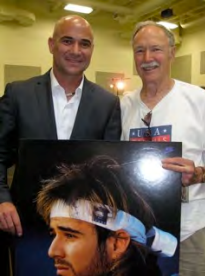 How many of us get to meet our sports heroes? Lou Davit did just that when he met one of his tennis heroes – legend Andre Agassi – at a school opening last July. Agassi was in Milwaukee for the opening of the North Point Lighthouse Charter School in the Thurston Woods neighborhood. This school is the second of 20 that he hopes to open by the start of the 2013-14 school year. Andre is an eloquent speaker and was joined on the stage by Mayor Tom Barrett and others.
Lou brought along a poster of Agassi when he was in his prime and had hair – lots of it! Lou's son, Chris, had that poster in his room since he was a teenager. The poster was a "hit" of sorts – lots of people taking pictures and videos of it. They didn't know Andre when he was the world's number one tennis player, the only player to ever win all four grand slams in the same year with a total of eight slams over several years, and also win the Olympic Gold Medal in 1996.
That enthusiasm for tennis has turned into a passion for Agassi where education for underprivileged students in urban neighborhoods in concerned. He started the Andre Agassi Foundation for Education in 1994, inspired by others in the network of "no excuse", highperforming charter schools.
By the way, Chris Davit is now a tennis pro in Jackson Hole, WY, and his poster is autographed.