Winslow Homer, England & Spring Luncheon 2018
May 13, 2018
April 19, 2018, Spring in Milwaukee, a mixed bag this Spring, our members gathered for lunch and checking out how everyone managed the Winter. We made it!
Our first-time attendee at the luncheon was Tom Szymanski, a friend I first met in the Milwaukee Branch. It was good to see Tom again. The branch was a great experience.
After catching up with everyone over lunch, our speaker, Laura Lange, Docent, Milwaukee Art Museum took us on a virtual tour of the then current special exhibit "Coming Away: Winslow Homer & England."
It's always interesting to me to hear the back story in a work of art. On my visits to museums and galleries, I do enjoy looking at good art, at least what I consider good art. That's OK, but maybe a bit too superficial, like reading a book review, you get some of the idea, but it's really limited.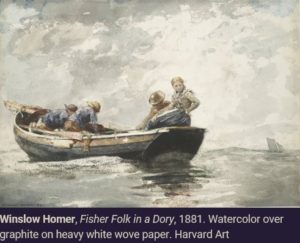 Well Laura took us through Homer's visit to the English coast 1881 – 1882, his paintings of that period and after. After experiencing the English seacoast in 'the small fishing village of Cullercoats on the northeastern coast of England' his art changed, he even moved from New York to Prout's Neck on the coast of Maine. The power of the sea, the struggle between humanity and nature became a common theme for his art.
There are events like that in life, aren't there? Some, like Homer's trip to England, have us reach beyond ourselves to create something new; to create a step change of personal growth. That may be a good challenge in life, to keep looking for those events, maybe even making them happen to continue our personal growth and our contribution to others, like Homer's celebrated artworks.
Knowing the back story opens us up to those kinds of ideas. That's much better than being satisfied with reading the review isn't it?
Jude Anders
Editor WSJSociety.com