Winter Luncheon/ The Play is the thing…
February 9, 2016
Winter warmed up a bit – just a bit – for our winter luncheon in January. But then, touching base with friends always warms up the room and everyone in it.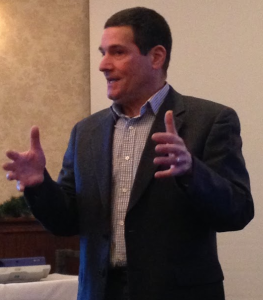 After a hearty winter lunch, we were treated to an introduction to theater arts by David Cecsarini, the Producing Artistic Director of the Next Act Theatre.
We learned that:
UK can pull up the lion skin and take on the spirit of a lion at any time (UK is an actor)
Acting is the ability to take on many spirits, to accept them, and bring out what there is to learn in each
The goal of Next Act Theatre is to offer the audience the experience of walking in someone else's shoes.
David also described Shakespeare's version of the role of acting in theater with several well presented scenes.
The Play – life – is indeed the thing and the Next Act Theater is local theater at its best, right here in Milwaukee, 255 S Water St. Check it out! Their website is nextact.org.
By the way, our own Dave Anderson is President of the Board at the Next Act Theatre. Congrats Dave and thanks for setting us up with David – great theater at lunch with friends, good stuff!
There were no first timers in the group – the welcome mat is always out, so we'll be looking for you at the Spring Luncheon!
Jude Anders, VP Communications
Here are a few more pictures from the luncheon, click on the image to see a larger version … see you there in Spring!